Unique flavors and colors
The authentic taste of the village
Our restaurant, also with an outdoor area in the private courtyard, will captivate you with the flavours and colours typical of Basilicata.
Dine by candlelight under the stars, in the centre of Sasso Caveoso, immersed in history, savouring our cuisine and sipping an excellent wine from our cellar, will represent an unrepeatable moment to remember.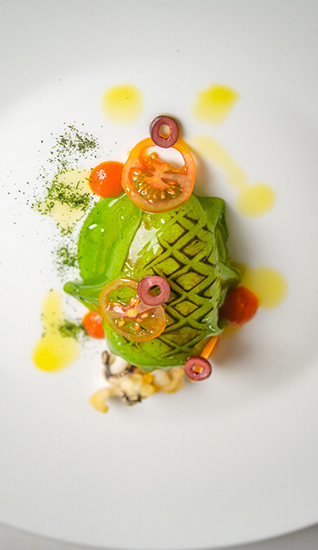 The aesthetic aspect of this space dating back to the thirteenth century is valuable, enriched by arches and counterthrust walls that surround it.
Inside the restaurant, which has a capacity of about 30 seats, but which becomes 60 if you want to consider our multipurpose room, there are: the reception area of ​​the maître d 'dining room, a lounge bar area, a library.
The restaurant room is a flexible space, intercommunicating with the breakfast room and the meeting area. Its capacity varies according to the occasion, making itself available to events and contingent needs.
The furnishings designed and made on purpose, in white colour, are the trademark of the architect. Simone Micheli.
Discreet, light, minimal, fluid furnishings, but at the same time adequate for space and function.